We've Spent MILLIONS In Performance-Based Advertising That Converts Cold Traffic
High EPC and Conversion Rate:
EPC: $1.09 - $3.43
Conversion rate: 1% - 3.62%
1
Front End Offer:
The 67 Steps
Price: $67
Commisson: 75%
Your Profit:
$50.25
2
Forced Recurring
The VIP Lifestyle Trainer
Price: 30 day trial then $67.00/month
Commisson: 25%
Your Profit:
$16.75/month
3
Upsell #1:
The Mini MBA
Price: $297
Commisson: 50%
Your Profit:
$148.5
4
Downsell #1:
The Mini MBA
Price: $197
Commisson: 50%
Your Profit:
$198.5
5
Upsell #2:
The Entrepreneur Code
Price: $95
Commisson: 50%
Your Profit:
$47.5
Unlike most digital products that launch with affiliates, we decided to test and scale 67 Steps with our own money first. And we don't mean a small amount of money for testing, either.
We've invested MILLIONS of dollars in cold-market testing, so we can have the highest-converting customer flow (CF) possible for affiliates.
Now that we've fine tuned our checkout, we're ready to give qualified affiliates everything they need to make their campaigns a success.
But not every affiliate will qualify. We carefully pre screen each affiliate, so we can make sure we're getting quality traffic from serious affiliates - not junk traffic from affiliate hobbyist.
Here's the payouts you can expect as a 67 steps affiliate:
75% payout on frontend product, 67 Steps.
50% payout on multiple 1-click upsells.
25% payout on rebills.
This is what you earn with every sale:
$52 min to $200 max
$17/mo for every conversion that stays active past the free 30-day trial VIP Lifestyle Trainer program
Vendor Spotlight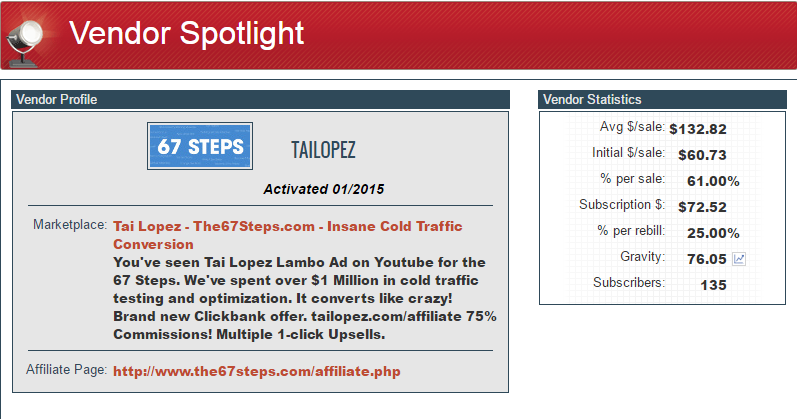 What Is 67 Steps?
67 Steps is an online education program, created by Tai Lopez, that teaches people things they wished they learned in school.
Each step in the 67 Steps contains multiple lessons learned from Tai's mentors, a book Tai's read, and business lessons Tai's experienced.
People who invest in the 67 Steps save several years, or even decades, of lost time figuring things out on their own.
The lessons revealed since the first release of 67 Steps have already improved countless lives around the world.
This Affiliate is Earning $2.25 EPC and Doing $14,000 Months
What People Say About The 67 Steps Program
Kai

Hey Tai

I just wanted to thank you for this amazing 67 steps program! I just done the second step and I already see that the value has gone far beyond my investment. I'm really looking foreword to the rest. So thanks so much again and keep up the good work.

Brian Kally

Thank you tai. I am on day 12 of the 67 steps and I am already reaping the benefits and feeling a transformation take place. you keep me motivated on a daily basis.
James

Tai, Just want to say a simple "thank you", I may not get a chance to meet or talk with you one on one, but in just 18 day of the 67 steps I have started my own business, got out of a damaging relationship, and going for the good life. thank you for working so hard to help others, and from my heart I appreciate the "kick in the pants" I needed.

Kyle

I wanted to thankyou for implementing the 67 step program, as it has been a tremendous help to my life in such a short amount of time. I can't believe I am only on step 19?! You rock!
Tip: follow Tai on social media to stay on top of what's working and converting. This is what our top affiliates do: use Tai's daily social media content to develop high-converting angles for 67 Steps.


Why Promote 67 Steps?
Here are a few:
High EPC and Conversion Rate: epc: $1.00 - $3.40 / conversion rate: 1% - 3.6%
Tested and proven - Over 155,000 sales as of October 2016, and thousands more added every month
High engagement - There's more than 200,000 comments in the program, which means members are highly engaged
Ongoing updates - Every month, the recurring program within 67 Steps is updated with NEW content (this significantly helps with rebills)
Multiple angles - 67 Steps can be positioned for entrepreneurship, weight loss, or personal development (we'll show you how, after you apply to promote 67 Steps! ) (takes them to join form)
Makes money - The average cart value of a conversion for most affiliates is $140!
Swipe & Deploy Resources
We're giving away proven-to-convert campaigns to our affiliates. All you have to do is apply now (takes them to join form), and you'll see them if you're approved.
How To Qualify To Become a 67 Steps Affiliate
To maintain the quality of traffic, we manually approve each affiliate.
We're focused on bringing on affiliates who're in it for the long term. 67 Steps is not for get rich quick affiliates.
As long as you're an experienced affiliate who agrees with the criteria below, you'll have a good chance of getting approved:
No Google Adwords promotion.
Paid Facebook promotion OKAY after prior approval
Personal social media promotion OKAY
All other methods OKAY (but ask first if you're unsure)
67 Steps Affiliate Program FAQ
1. How's affiliate marketing on Clickbank work?
Clickbank allows you to earn commission off of every sale generated through your network. When you refer a customer to us, and that customer makes a purchase with your exclusive promotional link, we say THANK YOU by giving you a commission.
Clickbank takes care of processing, fulfillment and customer service. We say thank you by sending you your commissions directly via check, direct deposit , or wire transfer. There's nothing else you have to do to get paid other than to send us quality traffic that converts. It's that easy.
You will receive commissions on purchases you refer. You will receive 30% commission on purchases you refer. Lifetime commissions will be paid out on subscriptions, meaning you will get paid each and every month for subscribers your referred for the lifetime of their subscription.
2. How will I track my commissions?
Everything is handled in ClickBank's tracking software. You'll be given a unique link to use to promote 67 Steps. You'll be able to see who visits the VSL (video sales letter), who sees the checkout page, and who buys. Everything is automated.
3. Is becoming an affiliate free?
Yes. It costs you nothing to become an affiliate.
The only thing you'll need is a Clickbank account.
4. How do I create a Clickbank account?
Setting up a ClickBank account super easy. All you need to sign up here .
Once you have your ClickBank affiliate ID (or "Nickname"), enter it in the application form above.
After we've reviewed your application - and if you're approved, you'll receive email with your password and steps to successfully promote 67 Steps!